Best Solitaire Games to Play in 2023-24: Solitaire is a card game mentioned in a German book of games. You can play it competitively, either by taking turns or using separate decks of cards. Solitaire, played alone, probably started as a way for people to practice for competitive games.
Solitaire regained popularity in the 1980s with the rise of personal computers. Microsoft has included the game in its Windows product line since 1990, starting from Windows 3.0. Nowadays, most people prefer playing games online or on tablets. Solitaire, a popular card game, originates in Germany or Scandinavia. The earliest written record of the game dates back to 1783. Solitaire, an internationally played game, has different names. The game is often called "Patience," especially in the UK and France. In France, it is sometimes referred to as "réussite."
What are Solitaire Games?
Solitaire, or Patience, is a classic card game with a long history. Most solitaire games require arranging all thirteen cards of each suit in order, from ace to king. The ace is the starting point for a sequence of cards in the same suit. It is followed by a two, then a three, four, five, and so on. It is called "building." To succeed in the game, you need skill, a sharp eye, and strategic thinking.
Online solitaire is a fun way to spend time and enjoy countless hours of entertainment. Solitaire is a skill-based game that requires strategic thinking to get a high score. To win quickly, you need to plan and consider multiple moves in advance.
Practice and improve your solitaire skills with free online solitaire. It's a great way to enhance your understanding of the game and gain the experience of playing live games. There are many types of solitaire games for you to play. Pick your favorite version and begin playing the top free solitaire games online!
Different types of Solitaire Games
You can find a wide variety of solitaire games, including beautiful variations that add a twist to the classic rules. Two good examples are Pyramid Solitaire and Thieves of Egypt. You can find both games on Solitaire Paradise, a website that focuses on solitaire games. There are other popular versions of Solitaire, such as:
1. Builders
Builders, this game is a classic. The goal of these games is to build same-suit card sequences starting from the ace.
2. Packers
In these games, the cards need to be arranged in reverse order on a section called the "tableau." Then, they can be constructed in the correct order on top of the foundations. The process of reverse building is called "packing." These games can be divided into three subcategories: Blockades, Planners, and Spiders.
3. Non-Builders
For non-builders, these solitaire games don't use either technique.
Solitaire games can also be classified based on how many cards are revealed.
1. Open games
Open games in which the cards remain visible and Solitaire requires the player to employ analysis.
2. Closed games
In closed games, players draw cards from a face-down stock. The challenge is that the sequence of cards is unknown until they are revealed, so players must use their judgment. One great example is Tri-Peaks Solitaire. Instead of the usual row of 8 cards, it has three pyramids that you need to match up.
3. Half-open games
Half-open games are a combination of the two types mentioned earlier.
How to Play Solitaire Games Online?
Do you know that the most popular version of Solitaire is Klondike Solitaire? The version of Solitaire that most people call "classic" is the Klondike game. Each type of Solitaire has its unique play, but some general instructions guide each game. Here are some tips for playing free Solitaire games online.
Solitaire online is a card game that uses a standard deck of 52 cards. The game begins once the board is prepared. Online Solitaire automatically manages this for you. Solitaire has four types of piles: Tableau, Foundations, Stock (or "Hand"), and Talon (or "Waste"). The main goal of the game is to use all the cards in the deck to fill up all the piles. In the game, you deal cards from a shuffled deck into a specific arrangement. Then, you try to rearrange the deck by suit and rank. Cards can only be moved within the given restrictions. The ranking of cards in Solitaire is as follows: King (highest), Queen, Jack, 10, 9, 8, 7, 6, 5, 4, 3, 2, Ace (lowest).
10 Best Popular Solitaire Games Free Online
Here are some of the most popular Solitaire games you can consider in 2023-24.
1. Mahjongg Solitaire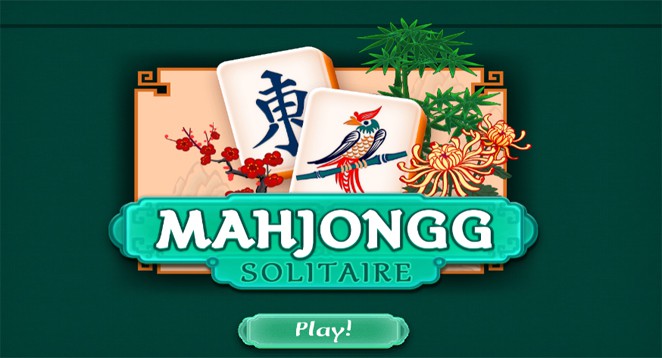 Mahjongg Solitaire is a mahjong game with classic rules and updated graphics. The game doesn't have shuffles and is timed, but it has a relaxed pace. Mahjong is a challenging puzzle game. There are many similar tiles with slight differences. To spot patterns, remember not to move pieces when both sides are blocked. Make sure either the left or right side is accessible. Mahjongg Solitaire has hints for when you're stuck, but it doesn't have a shuffle feature like other mahjong games. The games have a time limit, so you need to match tiles quickly.
After the game ends, you will receive a score for the matched tiles and a bonus based on how long you played before time ran out. Mahjongg Solitaire has 144 tiles that are divided into three suits. The main suits are Dots, Bamboo, and Characters. In Mahjongg Solitaire, there are unique tiles that can be matched even if they don't have the same image. The highlighted items are either blue or green. Mahjongg Solitaire is an excellent option for both beginners and experienced mahjong players.
2. Four Colors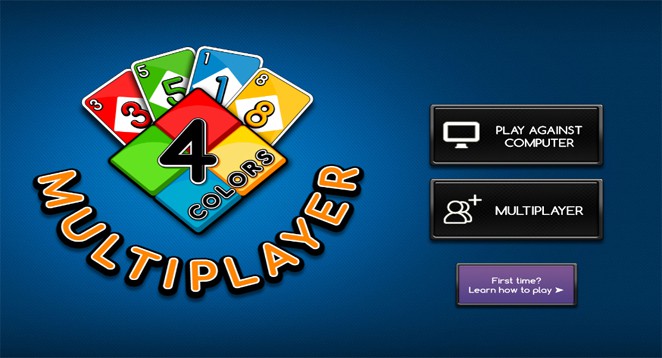 Play the popular card game for free in your web browser with Four Colors. The game aims to be the first player to get rid of all their cards, like other Crazy Eights-style card games. Play a multiplayer game similar to UNO with 2, 3, or 4 players.
To increase your chances of winning in this multiplayer UNO-inspired game, you can employ different strategies. The main goal is to be the first to get rid of all your cards. To play, match the color or number of the card placed before yours. If you don't have a card you can play, you need to keep drawing cards from the pile until you find one you can play.
If you have only one card left, press the "1" button. Otherwise, you will get two penalty cards as punishment. There are a total of 108 cards divided into four different colors. Number cards make up 70% of the deck, with 19 cards in each of the four colors. The cards range from 0 to 9. Each card has a specific quantity. There is only one zero card, while all other numbers have two cards each. There are also action cards and wild cards, which make up the remaining 30% of the cards.
3. Magic Towers Solitaire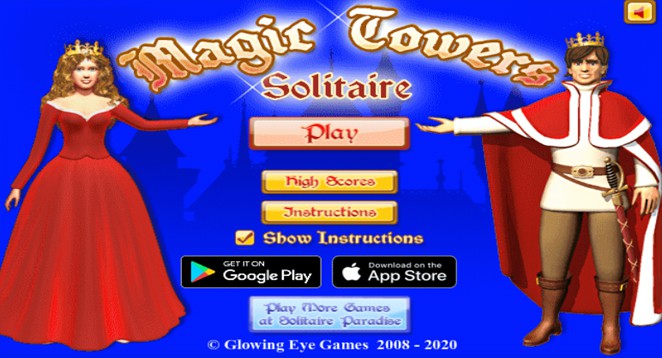 Magic Towers Solitaire is a solitaire game with a medieval theme. To clear the three peaks, click on a card that is either one higher or one lower than the previous card.
4. Solitaire Social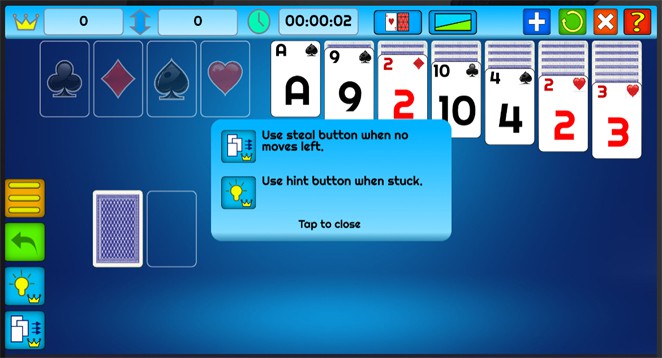 Solitaire is now social! The Kings and Queens have arrived, so let's roll out the red carpet! Experience the thrill of playing a live version of classic Solitaire against other players! Join thousands of Solitaire fans worldwide!
Compete in thrilling tournaments against players worldwide. Show off your impressive solitaire skills and dominate the leaderboard. Win daily prizes to keep the wins coming. Add a touch of magic in challenging situations to stay in control. Join the weekly Magic competition and win fabulous prizes.
5. Pyramid Solitaire Ancient Egypt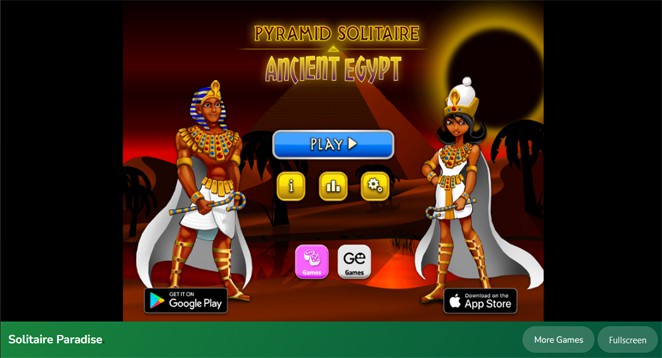 To clear the pyramid of cards, pair cards with a total value of 13. This version of Pyramid Solitaire has an Ancient Egypt theme and is fun and engaging to play. Solitaire Paradise created Pyramid Solitaire Ancient Egypt.
6. Solitaire Reverse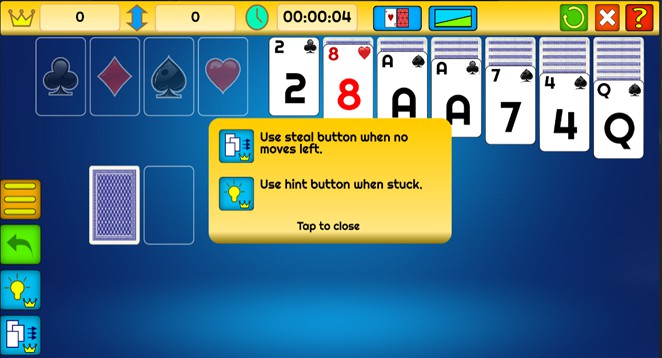 Solitaire Reverse is a card game where the usual solitaire rules are reversed: Now, start from the ending position and try to make your way down to the starting position. Your objective is to play the cards that are exactly one number higher or lower in value than the open card in the bottom right corner. This solitaire game changes it all! Go ahead and spend your hard-earned crowns on new themes and enjoy the game with new, gorgeous backgrounds!
7. Spooky Tripeaks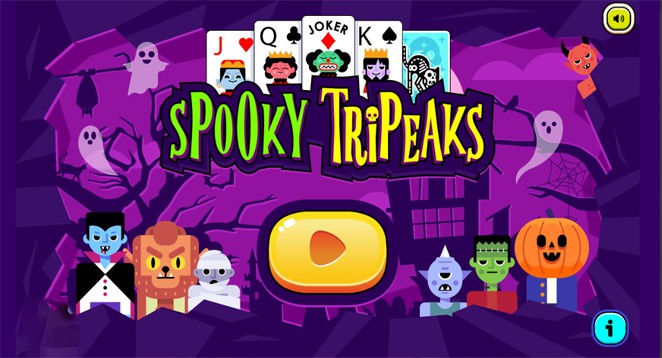 Spooky Tripeaks is a Halloween-themed version of the Solitaire card game. You must complete all 100 levels. Make the process easier by using jokers and other bonus cards. To get the bonus cards, click on the ghosts and other spooky characters.
8. Solitr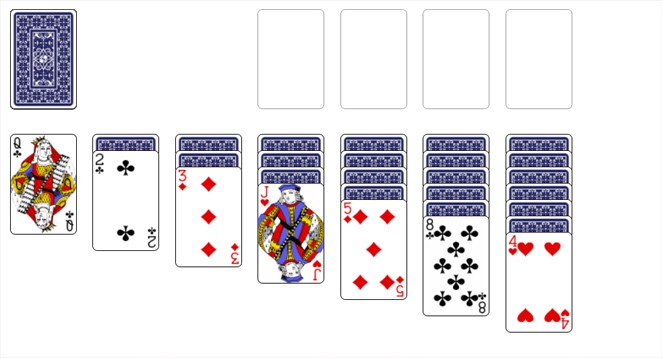 Solitr is an online version of the classic solitaire game. It allows you to play the game in its original form. Enjoy playing solitaire online to relax and unwind from everyday stress. The best part is you don't have to clean up the cards afterward!
The game rules are simple: stack each pile of cards with all suits, from King to Ace, in ascending order. As you reveal the cards individually, the deck will be in a random order. Your task is to find the correct move. There's a space at the top where you can stack cards until you're ready to make your next move. Enjoy yourself!
9. Australian Patience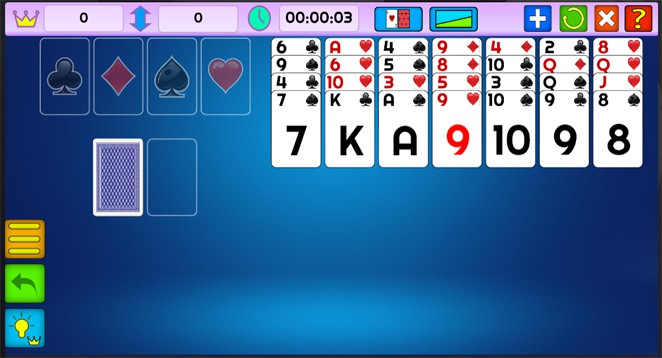 Australian Patience is a challenging solitaire game. The goal is to move all cards to the four foundation stacks, starting with Aces. To progress from Aces to Kings, play a card that is one higher and of the same suit as the one shown. You can unlock beautiful background themes using the points you earn. How fast can you clear your deck?
10. Golf Solitaire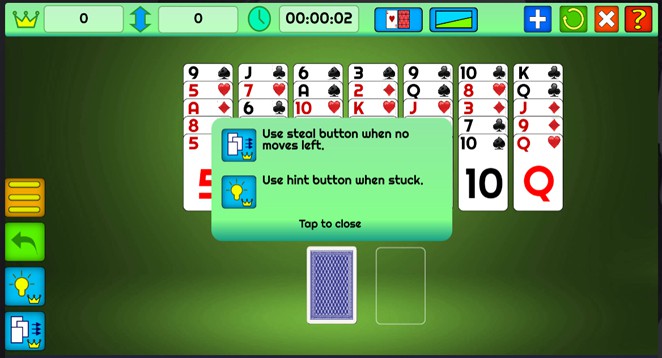 Golf Solitaire is a fun and challenging card game you can play alone. The game uses a standard deck of 52 cards, but the rules differ from regular Solitaire. In Golf Solitaire, the goal is to move all the cards from the seven columns to the single pile at the bottom. You can move cards to this pile if they are one number higher or lower than the top card. If you don't have any cards to play, you can flip a card from the face-down pile until you find one that you can play.
To win the game, move all the cards from the seven columns to your face-up pile. You lose the game when you run out of cards to play. If you're stuck, don't worry! There are hints available and a "card steal" button to help you out. Steal randomly takes a card from any column, regardless of its content. The hint button helps you find the best move when options are available.
Final Words
Solitaire is a classic card game with a long history. This card game needs skill, a sharp eye, and strategic play. Online, you can find various solitaire games, including exciting variations that add a twist to the traditional rules. Rediscover your love for the classic card game and try Solitaire games 2023-24.