If you love old-school gaming, you probably remember the days of "Flash games websites." These sites used to have lots of games powered by Flash. However, when major web browsers disabled Flash in 2020, these sites disappeared. But there is one website to protect these ancient titles, and it is entirely free to use. This guide is about the best Poki games available online. Poki is a website with over a thousand free games.
If you want to play hundreds of browser-based games on different devices, check out Poki.com. If you're still getting familiar with the site, don't worry! In this article, we'll explain what Poki is and highlight the top games you can play on the platform.
What is Poki?
Poki.com is a popular website that was founded in 2005. With millions of active users each month, it has evolved from a game library to a complete platform where players can enjoy hours of entertainment. It's a place for small developers to host their projects, run by a team of about thirty people.
In 2016, the founders of Poki.com realized that the platform needed to be updated and run on an old architecture. They felt that this architecture needed to be improved to control and maintain. So, the decision was made to update the site, improve its ability to manage more users and create a better experience for the 30 million people who depend on it for top-notch Poki content and free games.
Today, Poki is a unique and user-friendly site that offers a variety of games and nothing else. Using the site is a breeze. Go to the site, choose the popular games you want to play and start playing. It's easy and has a great selection of titles. Some of these are familiar to users from the past, while others have become popular online over time.
25 Best Poki Games online in 2023
Poki Games is a popular website where millions of players enjoy free online games every month. The app has many games, like Subway Surfer, Temple Run, and Candy Crush Saga. If you want to play easy games online to pass the time, here are some of the best Poki games you can enjoy on any device, like a smartphone, laptop, or PC.
1. Angry Birds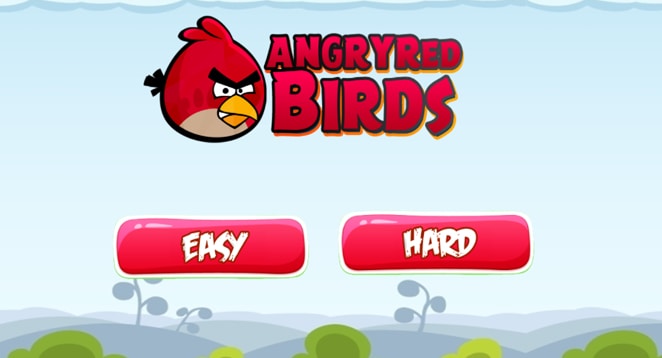 Angry Birds is a popular game that became so successful that it even got its movie. You can play as various birds, but mainly as a red angry bird. The birds are defending their eggs from the green pigs. To play the game, you must launch the birds toward the pigs using a slingshot. To hit the pigs, pull and position the slingshot correctly. You can find this game on Poki.co.in, an alternative to Poki.com.
How to play
1. To control the slingshot, press and hold the mouse or touchpad cursor.
2. Pull the bird towards the pigs in the direction you think is best. The dotted line indicates the bird's route.
2. Bubble Shooter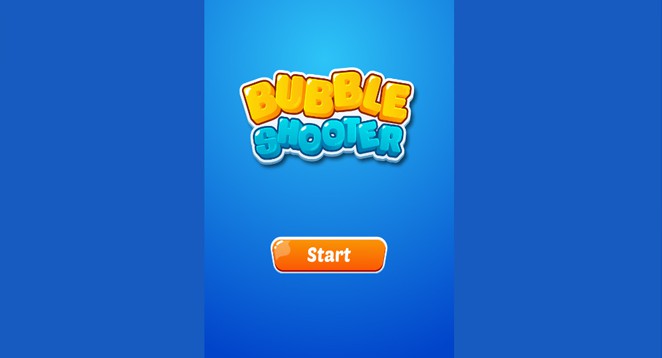 To play, aim and shoot the bubble at bubbles of the same color. This shatters all those bubbles. You need to move the aim and pop all the bubbles.
How to play
1. Move the cursor to ensure accurate aiming.
2. To shoot, simply click the trackpad or mouse.
3. Keep playing until all the bubbles are popped. Keep the bubbles away from the bubble shooter.
3. Breakoid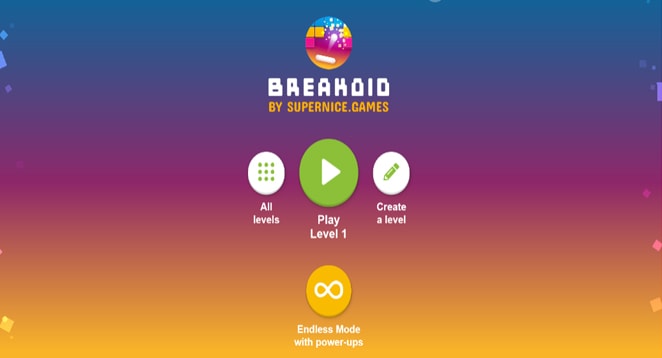 Here's another classic game where you break blocks with a ball. Use the paddle below to secure and bounce the ball. Sometimes, breaking a block will give you power-ups. Gather and destroy all the blocks.
How to play
1. Move the paddle and click the mouse or touchpad to release the ball.
2. To control the paddle, swipe on the touchpad or move the mouse when the blocks fall.
3. You can move the paddle to control the ball's direction or make it go faster.
4. Candy Crush Saga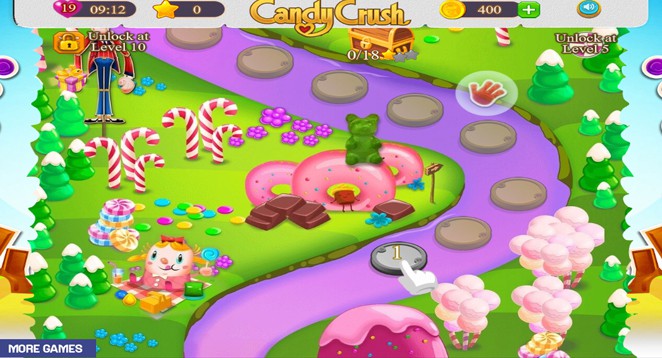 Candy Crush Saga is a game that many people, including you or your parents, may have been addicted to. It is a basic game where you match candies of the same color to crush them. Matching more items will result in more crushing, leading to winning more levels. You can find this game on Poki.co.in, an alternative to Poki.com.
How to play
1. To choose a candy, hold the mouse or trackpad cursor and move it in the direction you want to place it for a match.
2. To crush multiple candies at once, try zooming out and looking at the whole board. See if you can match a single group of candies to make it happen. This earns you more points at once.
5. Combat Reloaded 2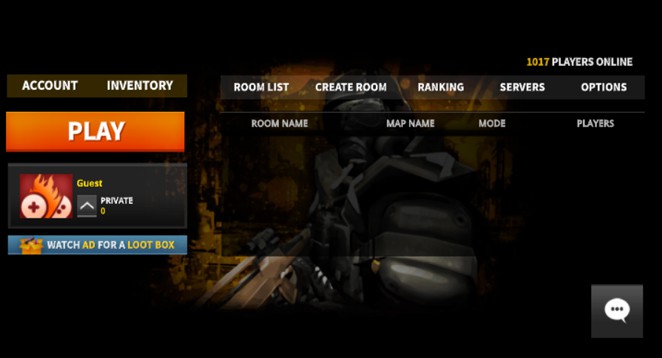 This game is a shooter. Defeat the enemies and stay alive by avoiding getting killed by your opponents. Take aim and fire. When necessary, hide. You have a team of players in a server room with ten members. Additionally, there are other modes available, such as Deathmatch.
How to play
1. Use the WASD keys to move. To move forward, press W. To go back, press S. Press A key for left. To go right, press D.
2. Press the spacebar to jump.
3. To aim, move the mouse or touchpad.
4. To shoot, simply click the touchpad or mouse.
5. Use the number keys 1-9 to switch between weapons.
6. Fruit Ninja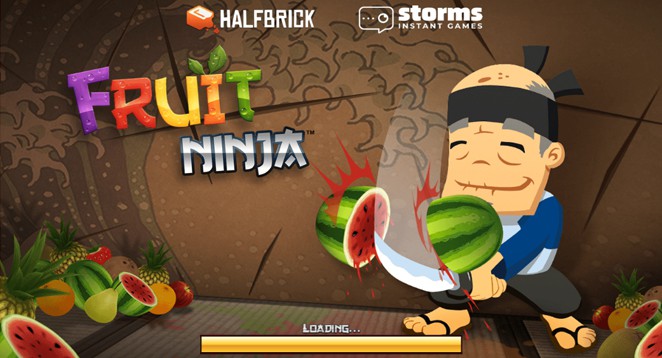 Quickly swipe and slash the falling fruits to prevent them from hitting the ground. Make sure you don't miss and aim accurately. Avoid hitting any passing bombs while you do this. Slice fruits like a pro ninja! Cut pears, apples, jackfruit, coconuts, and bananas with precision. Make sure you don't miss or hit a bomb.
How to play
Click and drag the mouse to hover over the fruits. When using a touchpad, use one finger to press the pad and the other finger to slice the fruits.
7. Football Legends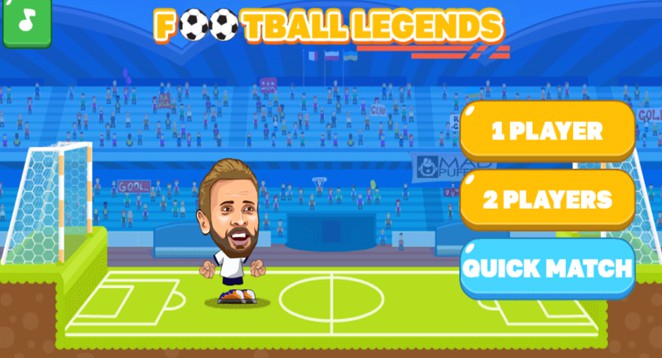 To score a goal, use your head or legs to hit the ball. Ensure you are in the correct position and timing to hit the ball. Close your goalpost tightly so the opponent can't find a way through.
How to play
1. To hit the ball, press X.
2. To perform a super shot, simply press Z.
3. Jump by pressing W.
4. To move forward, use the D key. To move backward, use the A key.
8. Golf champions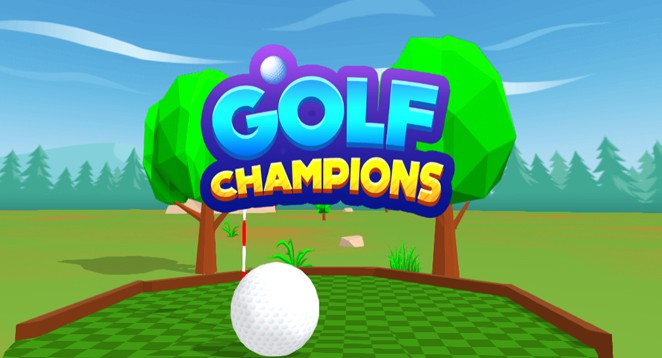 Try to aim and release the golf ball into the cup. Change the ball's direction and speed to move closer to the cup. Stay clear of obstacles and stay within the designated course or area.
How to play
To drag and release the ball, press and swipe back on the touchpad.
9. Jetpack Joyride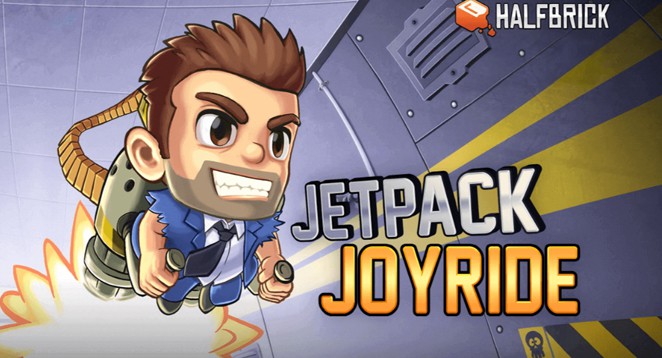 Fly on the jetpack, shoot enemy scientists, avoid obstacles, and collect points. It's a never-ending race. In your journey, you'll encounter huge mechanical dragons, birds, cool weapons, fashionable outfits, and other surprises.
How to play
Press the space bar to go up and let go to come down.
10. Ludo Hero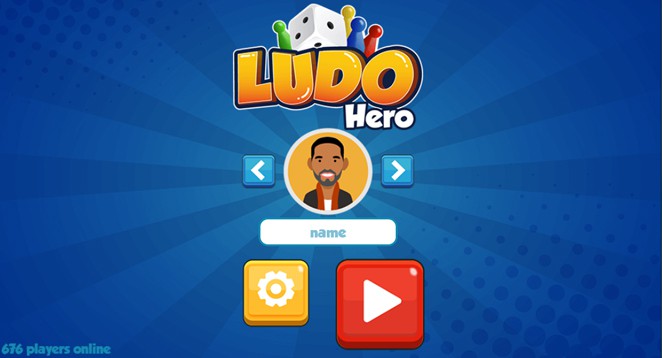 Roll the dice and move the game piece around the board. You reminisce. You can now play Ludo Hero and relive the fun times of playing this board game with your loved ones. User have the option to play alone or with others. When selecting a single-player option, you can compete against a computer bot or an online player.
How to play
1. To roll the dice and move the pawn, simply click on the dice. The pawn will then move according to the number of steps.
2. Please wait for the other player to take their turn.
11. Monkey Mart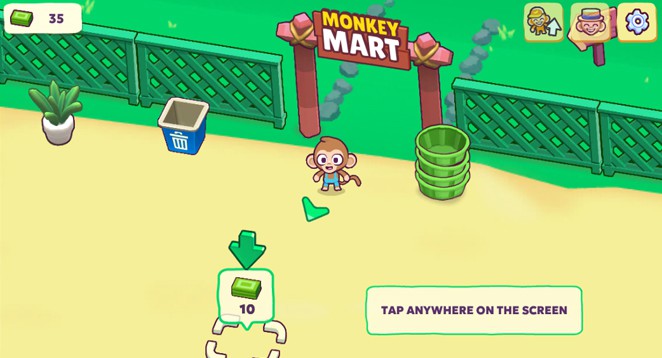 You control a monkey character who runs a store selling bananas. First, you must set up the farm, stalls, and cash counter. You pick the bananas, gather them, and place them on the stall to sell. Customers visit the stall, purchase, and then pay at the counter. As your business grows, you can continue to add new workstations, hire more staff, and offer more products for sale. You can train your staff and keep things running smoothly.
How to play
In the game, you use the WASD keys to move around the mart. Your goal is to collect bananas and other products and put them up for sale. You also need to collect cash from the customers and train your staff.
12. Master Chess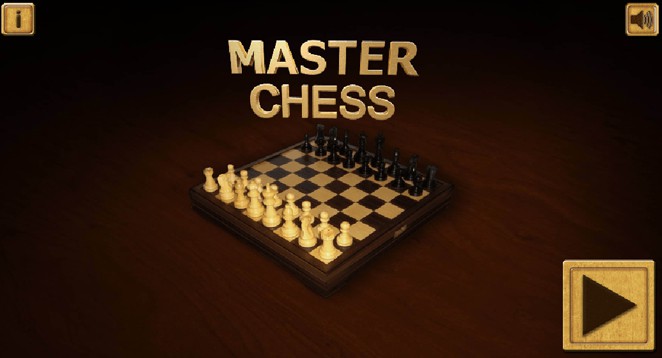 Chess is a popular game that I chose because of its appealing graphics. You have the option to play against another player or the computer. You have 10 seconds to make a move. The time element makes the game more serious.
How to play
1. Select the chess piece you wish to move.
2. Please choose the location where you want to move it. Yes, you must follow the rules of chess. You cannot freely relocate them.
13. Mekorama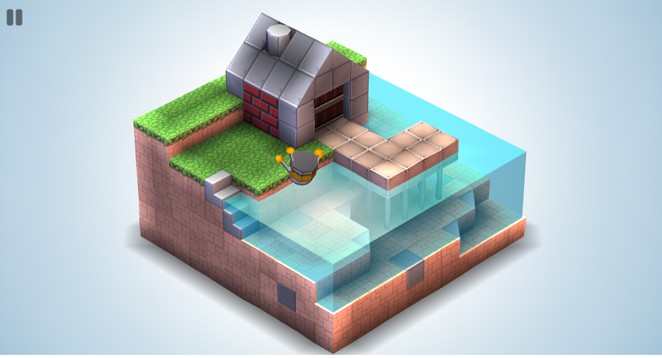 You're a small robot stuck on a little island. Arrange the puzzle blocks so you can walk to the stars on different island parts. To progress to the next level, gather all the items, and then you can move on to an other map.
How to play
1. Move the mouse to press and move the touchpad to adjust the camera angle and view different parts of the island.
2. To move the robot, click on any block or part of land on the island.
14. Moto X3M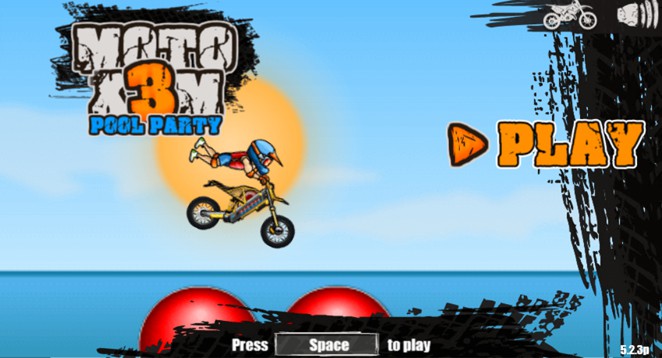 To finish the race, you must ride a bike, control its speed, and perform amazing stunts. It is a copy of Bike Race Pro, available on Android and iOS.
How to play
1. To go faster, press the up arrow. and to slow down, press the down arrow.
2. To slant forward, press the right arrow. Move backwards, press the left arrow.
3. To avoid falling and crashing, make sure to control your speed while performing stunts.
15. 2048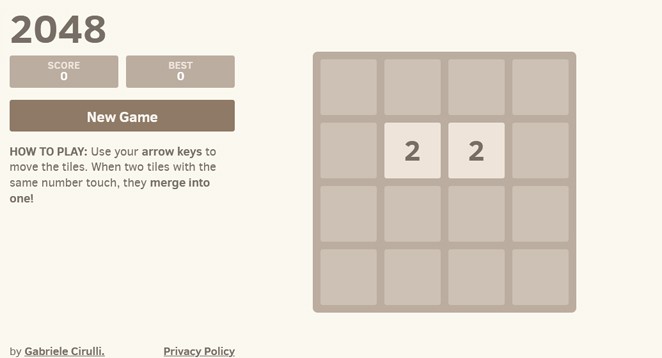 It's a puzzle game where you slide tiles with the same numbers to create a new tile. You gain points. It would help if you kept trying until you reach a 2048 tile.
How to play
1. Use the arrow keys to move matching tiles. Be aware that moving one tile may cause other tiles to move too.
2. Plan for the overall appearance of the board.
16. Pool Club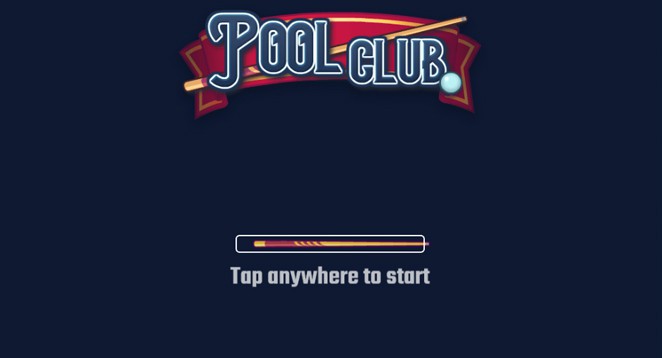 I played many pool games. I prefer the single-player mode of this game. Your competition is against time, not other players. To win, you must pocket all the balls before the clock reaches zero. You have 60 seconds. Dropping more balls in the pockets gives you a higher time bonus.
How to play
1. To choose the direction you want to hit, use the trackpad or mouse.
2. Next, press and pull the cue stick. Let go of the cursor, then use the stick to hit the cue ball.
3. Pay attention to the countdown and adjust your actions accordingly.
17. Subway Surfers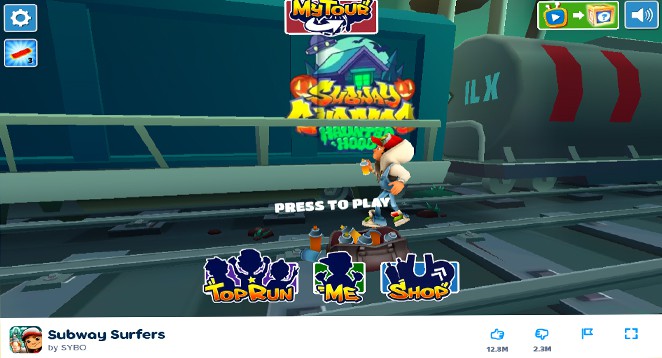 Subway Surfers is a mobile game designed for portrait screens where you run endlessly. You have the option to select different characters, but the default character is called Jake. In the game, you control Jake, and your goal is to avoid getting caught by a police officer and his dog. It would be best if you avoided trains, trams, and other obstacles too. While running, you can collect coins, power-ups, special gear, and more.
How to play
1. Arrow is a short and easy-to-read text. To jump, press Up and to duck down, press Arrow down.
2. To move to the left or right, use the arrow keys.
3. Activate the hoverboard, press the Space key.
4. Run as much as possible, collecting coins and power-ups along the way.
18. Super Tunnel Rush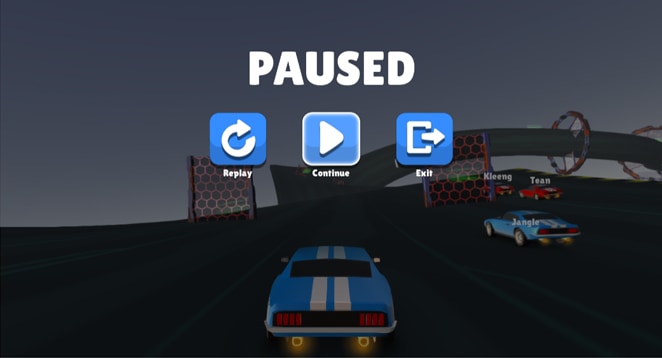 A cyberpunk-themed car racing game with crazy stunts and mind-bending physics. Speed up, but be careful not to fall off the track or hit any obstacles. To go faster, pick up the green power-ups as you go.
How to play
1. To move left or right, use A/D or the left/right arrow keys.
2. Stay away from obstacles.
19. Stickman Hook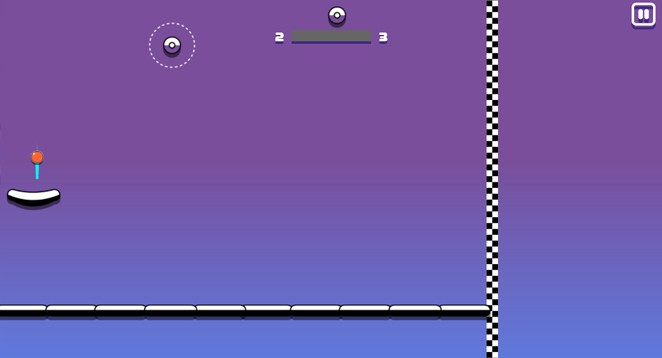 To cross the finish line, you need to catch the hook, position yourself correctly, and make sure you have the right speed and direction.
How to play
To catch and release yourself from the hook, press the spacebar. When you fall, aim to grab the spacebar correctly and swing in the right direction and speed to reach the finish line.
20. Super Mario and Sonic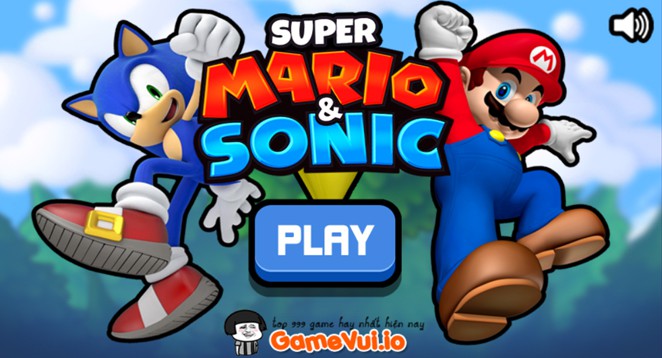 We couldn't find the original Super Mario game on Poki, but we found a clone called Super Mario and Sonic on Poki.co.in. You can choose to play as either Super Mario or Sonic, but both games are based on the gameplay mechanics of the Mario game. In this game, you must run, jump, and hit objects to collect coins. Be careful to avoid falling into any valleys! Your goal is to reach the flagmast. You can find this game on Poki.co.in, an alternative to Poki.com.
How to play
1. To jump, press the up arrow.
2. To move in a specific direction, use the left and right arrow keys.
3. Take your time and be careful not to rush into the valley or accidentally hit the turtles.
21. Temple Run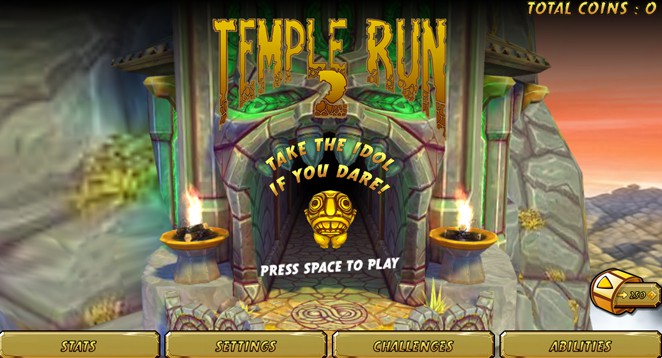 Here's another popular endless racing game. You are an explorer running with a relic. Keep running, collect coins and power-ups, avoid obstacles, and don't let the chasing monkeys catch you. Be cautious not to stray from the path.
How to play
1. To navigate the obstacles, use the Arrow Up key to jump, catch a ropeway, and leap over crevices. Use the Arrow Down key to duck under hindrances on the path.
2. Gather coins and power-ups as you run.
22. Tennis Masters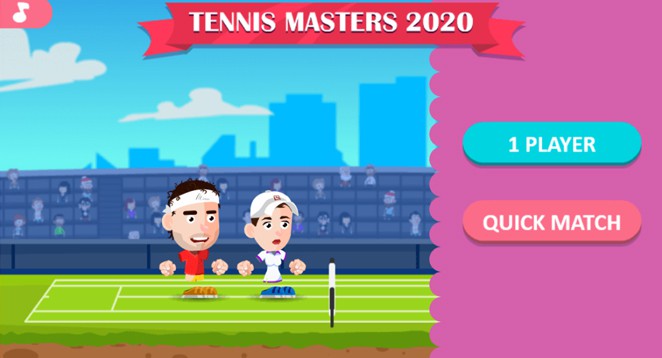 To play, just hit the ball back and forth over the net. The game continues until a player misses the ball or hits it out of bounds.
How to play
1. Press X to hit or Z to smash the ball.
2. To move, use W to jump, A to move backwards, and D to move forward.
23. Tetra Blocks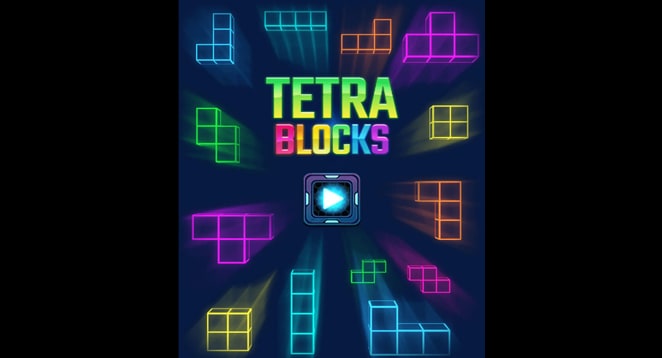 The classic arcade game is back and still just as fun! Ensure that the blocks fall in a manner that completely fills a row. When a row is fully clean, it breaks and you earn points. The game stands out with its vibrant colors.
How to play
1. To rotate and guide the blocks, press W or the Up Arrow. Aim to fill as many rows as possible. Over time, the row becomes clean and eventually disappears. You earn points.
2. To move the blocks, use the A key to move left and the D key to move right.
3. Move the blocks faster, press S or use the Arrow Down key.
4. To hard drop the blocks, press the spacebar.
24. Trivia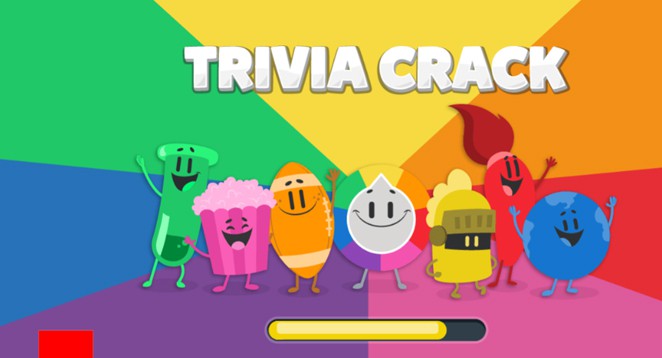 Try out this game to test your knowledge. There are three modes. In classic mode, you spin the wheel, and whatever topic it lands on is the one you play. It will be completely random. In challenge mode, you get to pick the topic and try to answer all questions correctly. In Party mode, you can play against others.
How to play
To spin the wheel or choose a topic and select an answer, simply use the trackpad or mouse.
25. Vectaria.io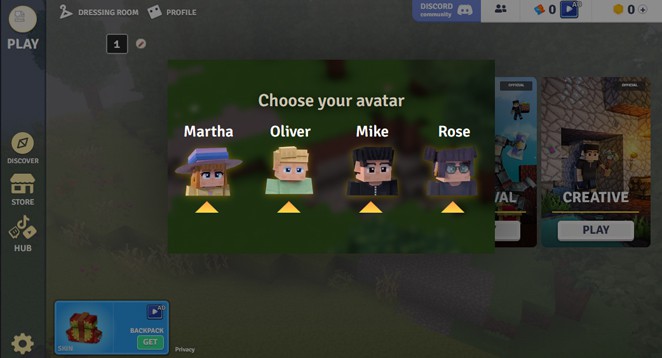 A Minecraft copy, if you prefer. You need to hit and gather items. You can use them to create various objects.
How to play
1. To move, use either the WASD keys or the arrow keys.
2. Place a block, by clicking the right mouse button, or a trackpad click.
3. To hit and mine, use the left mouse button.
4. Use the spacebar to press the spacebar.
5. To open your inventory, hold down either X or U.
6. Press G key for home menu
7. To view spawn points, press M.
8. Open the shop menu, press the letter O.
9. To open the guide, press I.
10. To chat, press Enter and start typing your message.
FAQs
What is Poki Games?
Poki Games is a website that hosts browser games. You can play these games directly from your web browser as long as you have a stable internet connection. Poki Games began in 2005 as a collection of games made by developer Sebastian Moeys. The website started small but now has over 300 game developers and attracts around 5 crore players every month. The website supports 28 languages because it's a global online playground.
Is Poki Games safe for me or my kids?
Yes, these games are designed for young people. The company promises not to collect personal information or use unnecessary cookies. For games suitable for younger children, check out the Poki Kids section.
Final Words
Poki.com is a great platform. Here are the top best Poki games, but there are many more on the platform that we still have not mentioned. It includes racing games, zombie survival titles, shooters, and simulation games. There are many games to explore on the platform, from old classics to new releases. The site is free to use, but it relies on ads for revenue. It means there will be many ads, including in-game ads that offer extra coins or lives.