The release date for Forza Motorsport has passed. The highly anticipated reboot of the racing sim series was released on October 10, 2023. Before the game was released, we got an overview of the gameplay from announcement trailers. We knew a few details about the tracks and cars. But now, it's available for Xbox Series X|S and PC, and everyone can try it out to see if it's one of their favorite racing games.
It is an excellent example of the capabilities of the latest Xbox hardware. It will likely provide tough competition for Gran Turismo 7 on the PS5. Please keep reading for all the essential details about the game and what we knew before its release.
Forza Motorsport Release Date and Platforms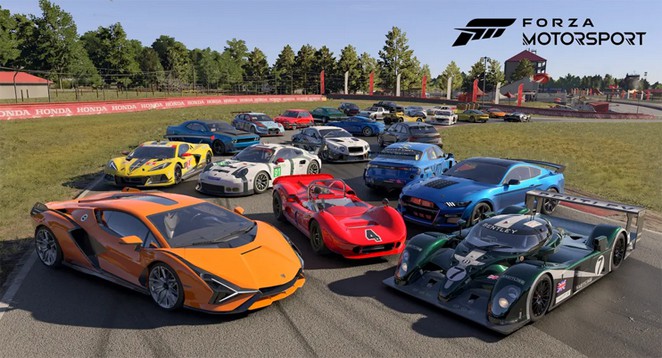 Forza Motorsport Game was released on October 10, 2023. It can be played on Xbox Series X|S and PC. It's also on Xbox Game Pass, available from day one. It is designed for the latest Xbox hardware, so it wasn't released on Xbox One.
Forza Motorsport Trailers
The trailer was shown during the Xbox Games Showcase on June 11, 2023. The trailer showed new footage from the game and revealed the release date.
We've added some latest Forza trailers in this article, but you can watch all the trailers on the official Forza YouTube channel.
Forza Motorsport Gameplay
It is a racing simulation game with a significant update from Forza Motorsport 7. Firstly, it's a significant improvement compared to previous games. In a Forza Monthly stream in May 2021, Chris Esaki, the creative director of Forza Motorsport, talked about the improvements in the game's physics compared to Forza Motorsport 7.
During the stream, Esaki explained that the changes made to the physics in Forza Motorsport 7 are greater than those made from Forza Motorsport 4 through Forza Motor sport 7. It's a big leap for the game, generation-wise. Esaki also mentioned that the tire collision model has been updated. In all Forza Motor sport games, including Forza Motorsport 7, tires have always had one point of contact with the track surface. They refresh at a rate of 60 cycles per second (60Hz).
The cars now have 8 contact points with the track, and the engine refreshes at 360 cycles per second (360Hz). The collision caused a 48x increase in fidelity for a single tire. Different types of tires will be available for the first time in the series. Different types of tire compounds, like hard, medium, and soft, will make the gameplay and racing strategy more attractive. Esaki mentioned that this will result in thrilling new decisions players can make during a race.
It will have the most realistic and immersive sound ever. The game's audio has been specially mixed for Dolby Atmos and Windows Sonic. In addition, there will be new features like regional track announcers and upgrades that change the sound of your car based on the parts you've added.
Forza Motorsport Car Details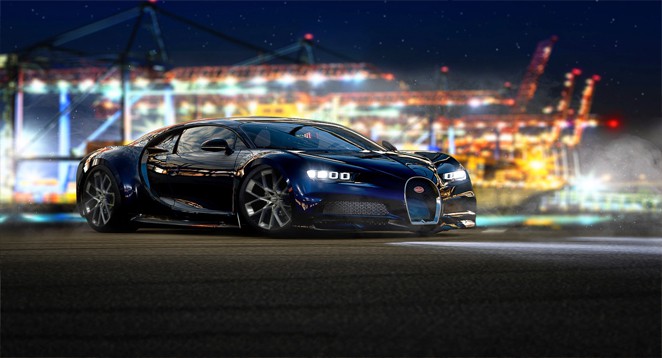 It has 500 real-world cars and over 800 upgrades available at launch. According to Turn 10, this roster includes the most up-to-date cars the series has ever had. In addition, these cars now appear and sound more lifelike than ever before. Turn 10 has improved the realism of the paint on Forza Motorsport's cars by using a spectrophotometer. This device captures various data points of light behavior on a surface. Cars will get dirty and damaged in a more realistic way, and each vehicle will be affected uniquely. According to Turn 10, the improvements to Forza's physics simulation are even better than the combined advancements in Forza Motorsport 5, 6, and 7.
Forza Motorsport Tracks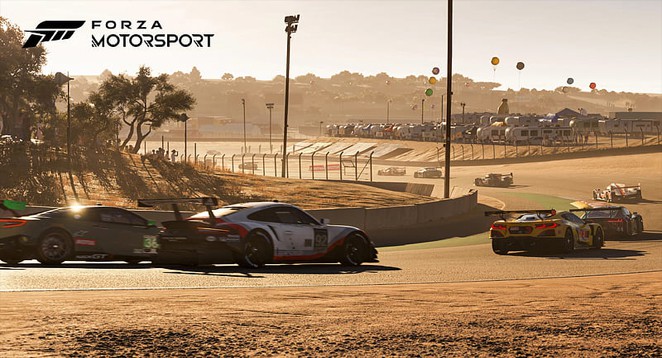 Forza Motorsport was released with 20 different environments, each with multiple track layouts. The next entry in the series brings back fan favorites and introduces five new locations, including one in South Africa for the first time. According to Turn 10, these environments in the new games have 10 times more detail. They include fully animated 3D spectators and detailed vegetation. In addition, It includes ray-traced environments to enhance the realism of the game's surroundings. These environments have dynamic time of day, weather, and track temperature mechanics that will impact your racing experience.
Forza Motorsport Latest News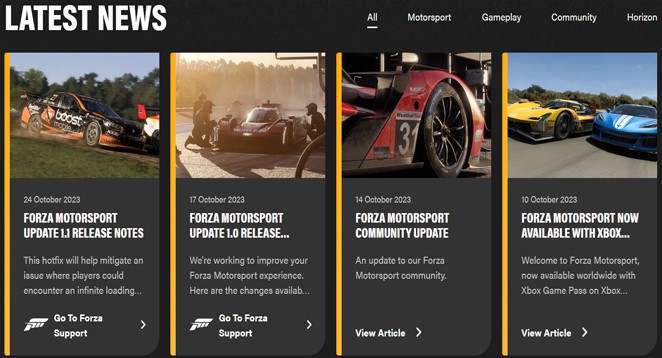 Here are the news updates we received about the game before it was released.
Xbox Games Showcase confirms Forza Motorsport release date
Forza Motorsport was released on October 5th at 12:01 local time for Xbox Series X/S, Windows, and Steam. Early Access is available for Premium Edition owners, while the game will be widely available on October 10th.
Forza Motorsport Reviews
It is not just about collecting fantasy cars but more like a role-playing game where players focus on developing their weapons as part of their journey. Starting a new race used to be as easy as grabbing a car, picking a track, and jumping into competition. But now, even simple things like that have become more complicated. To get better at driving, you should follow a process. Start by practicing, do qualifying laps, and take time to understand how your car works on the track. Forza has expanded its driver education features, offering a comprehensive approach. Alongside features like suggested racing lines and helpful assists, the game now emphasizes improving your approach to specific turns on a track. It also provides instant feedback to evaluate how well you navigated a section.
Final Words
You can play Forza Motorsport on Xbox One using Xbox Cloud Gaming. To access this version, you'll need an Xbox Game Pass Ultimate subscription. Ensure you have a strong and reliable internet connection for a smooth experience. It is not explicitly made for Xbox One and probably won't be in the future.