Razer Blackshark V2 Pro headset Review: Razer has an extensive collection of gaming headsets, making them one of the top peripheral makers. In recent years, many models have had a similar look. They have large, round, mesh-backed earcups like the Kraken, Thresher, and Nari lines.
Razer has recently changed its design approach by moving away from the previous form factor and opting for smaller, oval earcups. The Blackshark V2 Pro is the top-end headset in this wave. This wireless gaming audio solution aims to deliver high-quality sound, a versatile and detachable microphone, and comfortable long-term use. Surprisingly, it has a more subtle design compared to other products from Razer.
Let's see how Razer's decision to try something different performs in its intended job and other PC audio tasks.
Razer Blackshark V2 Pro Pros and cons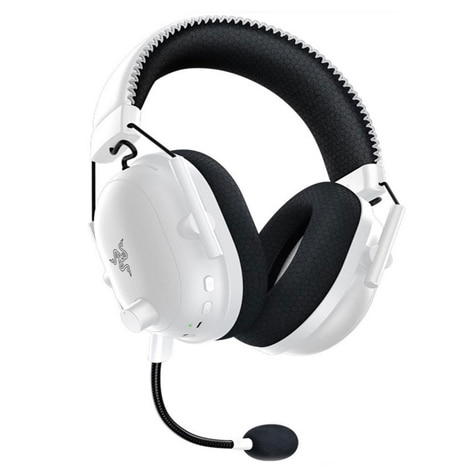 Pros
The build is light and durable.
It fits even the largest heads, mine included
Even avid gamers can enjoy a battery life that lasts over a week.
A powerful and reliable wireless signal.
Cons
Use micro-USB for charging instead of USB-C.
Low microphone volume without using software amplifiers.
Music playback performance is average.
Razer Blackshark V2 Pro Form and build quality
The Razer Blackshark V2 Pro has a unique style. Let's examine its design and build quality. The headset is mainly made of plastic. The Blackshark V2 Pro feels solid despite being made of materials that are sometimes considered less durable than metal. Interestingly, the headset's slim wire forks, which connect the headband to the earcups, appear visually fragile despite being made of metal.
1. Headset Band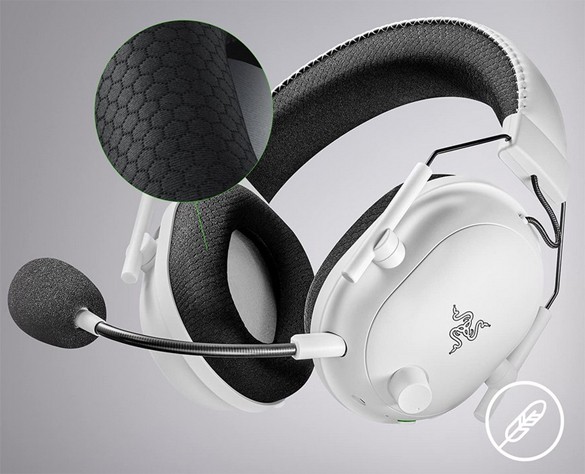 The forks hold the earcups and allow them to move up and down. The headset's band can be extended by fitting each side into a plastic tube. The good news is that the friction-based adjustments stayed in place and gave enough space for my head. The problem is that the Steelseries Arctis and Corsair Virtuoso models are not big enough to fit comfortably. The Blackshark V2 Pro is a perfect fit for me, with extra space.
2. Blackshark V2 Pro Weight
The unit was surprisingly lightweight, making it easy to enjoy the extra headspace. The headset is lightweight at 320g, despite having large 50mm drivers and a sturdy build. It's only 60g heavier than the corded Blackshark V2 and about 40g lighter than the metal constructions of the headsets from Corsair and Steelseries.
3. EarCups
Razer enhances comfort with their special Flowknit fabric and memory foam on the ear cups and headband. The breathable fabric and form-fitting padding made it comfortable to use. The product didn't get hot like leather earcups or cause annoying friction like rough fabric pads.
The Blackshark V2 Pro has closed-back ear cups and dense foam, which helps to block out noise effectively. While it may not seal as tightly as leather or leatherette, the slight sound leakage is worth the improved airflow and comfort of the Flowknit fabric.
If you plan to use the headset in a noisy place, remember that the ear cups cannot be replaced.
When it comes to loud places, the V2 Pro includes a removable microphone that is designed to capture sound in a heart-shaped area around your mouth. This feature aims to capture only your voice and avoid picking up other sounds, such as keyboard typing or mouse clicks. Later in our review, we will discuss the microphone's performance in more detail. I liked how it was sturdy, easy to position, and had a good pop filter.
4. The control and connection cluster
The control and connection cluster of the Blackshark is an essential aspect of its build quality. It is located on the left earcup. The most noticeable feature is the big volume knob that sticks out. Although I'm not entirely convinced about the design decision of having a big knob on a simple headset, it does match the headset's helicopter-pilot style.
No matter what you think of its appearance, you'll probably have fun using the knob, just like I did. It has a smooth and weighty feel that high-end audio equipment makers aim for. The device has a helpful marker that indicates when you've reached 50% volume.
5. Audio connector for PC, Xbox, PlayStation, or Nintendo Switch
At the bottom of the earcup, there are several things you'll find. Firstly, there is the connection point for the microphone, which is designed to click into place correctly. Next, there is an analog audio connector that allows you to use the headset with various devices like your PC, Xbox, PlayStation, or Nintendo Switch using a wired connection. There is also a mic mute switch that pops out to show whether it is on or off. Additionally, you'll find the power button and a micro-USB port for charging, which some people may have differing opinions about.
6. Fast Charging Feature
The Blackshark V2 Pro was released when USB-C was widely used, so it was included in the design. The newer protocol offers both convenience and faster charging than the older one. I wouldn't say I like that Razer still uses the older micro-USB connector. However, since I don't need to charge the unit often, it's okay.
Razer Blackshark V2 Pro Connectivity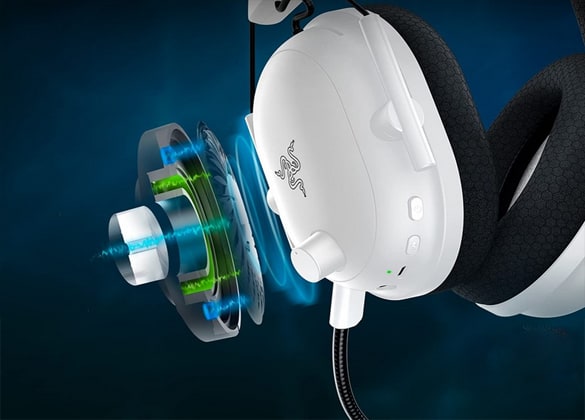 Comfort is important when it comes to wearing a headset for long periods. But you're paying more for the Blackshark V2 Pro because it has wireless connectivity. The unit is $110 higher than the fully analog Blackshark V2 X or $80 higher than the Blackshark V2, which has a USB sound card option. The cheaper models have the same hardware features as the others, including 50mm drivers, comfort, and build quality.
The wireless connectivity needs to work perfectly. Fortunately, Razer accomplished just that.
It would help if you used the USB-A dongle for wireless connectivity. The dongle is smaller than wireless mouse connectors, but it is still smaller than most flash drives and can easily fit into most USB ports. It works with PCs, PlayStation 4 and 5, and Nintendo Switch. Xbox consoles can only be used with wired connections.
This model does not support Bluetooth. Instead, it uses low-latency 2.4GHz wireless connectivity. Bluetooth headsets often experience lag and sync issues, but this solution helps to avoid them. These limitations can cause audio delays of up to a second or more, ruining casual games.
The Razer headset has a range of 40 feet. I could easily achieve this distance and even a bit more, even with a couple of walls in between, before the signal started to break up.
I've emphasized the importance of wireless connectivity, so I can't recommend this headset to those who primarily want a wired or Xbox headset. If you fit that description, get the Blackshark V2 X for $60. The V2 Pro comes with an analog audio cord, which makes it a versatile headset that can be used with any PC or console. It's a convenient option for people who want a single headset that works with all their devices.
Razer Blackshark V2 Pro Power and Charging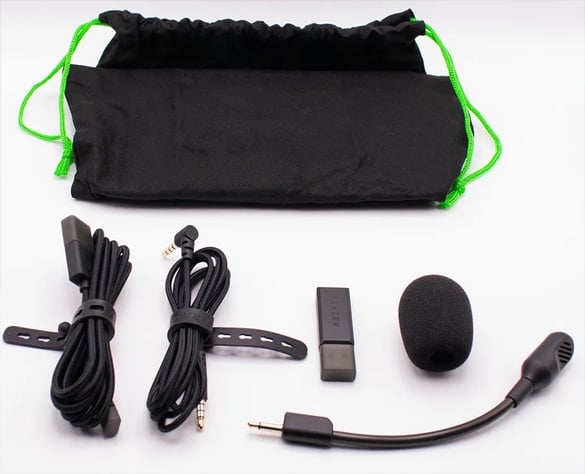 The Blackshark V2 Pro is a wireless headset, but it only works as long as its battery is charged. Razer says their device can be used for 24 hours straight without recharging. The company doesn't mention the specific settings used for this timeframe on its spec sheet. However, manufacturers usually measure durations at lower volume levels and with idealized settings.
Razer may have underestimated it, or I prefer lighter settings. I consistently surpassed Razer's estimates using a volume setting of approximately 40%. I achieved this by utilizing one of the pre-set equalizer settings and turning off any additional enhancements in Razer's Synapse software. With just 2-3 hours of daily use, I could go for a second week before needing to recharge.
It took me about 3 hours to recharge. If you're someone who always puts your device on the charger after using it, you won't run out of battery unless you play games for an unusually long time.
Razer Blackshark V2 Pro Sound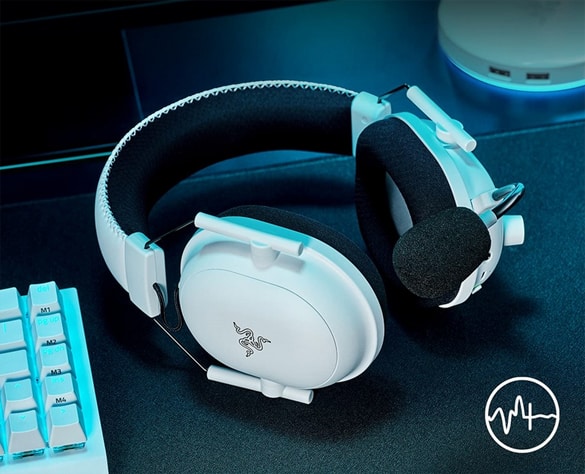 The primary purpose of a headset is to deliver outstanding sound quality. However, what determines excellence is not unique to each user but also specific to each situation. Using the same audio profile that is great for gaming can negatively impact the quality of your favorite music.
The Razer Blackshark V2 Pro is made specifically for gaming as a headset. While you can use it for music, that's different from what it's meant for. You can find many headphones, both wireless and wired, that are correctly tuned and cost the same or even less. I don't recommend this headset for listening to music.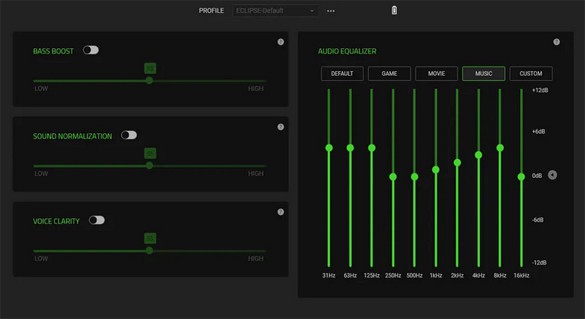 Listening to your favorite music using this method is okay, but it could be moreyable. The good parts include excellent instrument separation and clear vocals. However, some downsides exist, like overly sharp treble and unconvincing bass reproduction. You can improve this by using Synapse's equalizer settings, but only to a small extent. The "Music" preset doesn't do much to improve performance in most genres. Even when I tried adjusting one slider at a time, the results were mediocre.
In gaming, most of the weaknesses I mentioned earlier become strengths. The high-pitched sound helps you hear enemy footsteps over the low rumble of explosions nearby. The Blackshark's V2 Pro has exceptional sound directionality. It accurately pinpoints the source of in-game audio, both horizontally and vertically. It makes it more useful for gaming.
Only a few wired headphones, even the expensive ones, have this rare ability. Most stereo headphones can help you determine the direction of a sound on a flat surface. Most games have enemies that come at you from above and below. Knowing more about the game has helped me survive multiple times in Halo Infinite, Overwatch, and Splitgate. These games have maps with a lot of verticality.
I was accused a few times of "wall hacking," which means using illegal software to cheat by seeing through walls. I used directional sound to ambush enemies I had heard nearby. Being accused of hacking is seen as a proud achievement among gamers, even if it's not true.
All my praise is for the Blackshark V2 Pro's standard audio mode. The headset also has THX Spatial Audio, a software that enhances the surround sound when using a stereo headset. I discovered that enabling this mode not only made the audio direction less clear but also decreased the overall quality of the in-game sound.
The outcome was not surprising. Most surround sound technologies in other headsets are not very impressive.
I have mainly focused on competitive games that use sound to give you an advantage. Suppose you're into casual titles, RPGs, cinematic games, or genres that prioritize epic orchestral soundtracks over precise footsteps. In that case, you might experience some drawbacks I mentioned about the headset's music performance. Razer made this headset specifically for FPS pros rather than casual gamers.
Razer Blackshark V2 Pro Microphone performance
Instead of following a script or discussing the meaning of life, I decided to do a microphone test for the Blackshark V2 Pro headset and provide a brief overview of the microphone settings in the Razer Synapse software.
Listen to the sound in the video and decide for yourself what you think of the quality.
However, my only complaint about the headset's microphone is that its regular volume levels need to be higher, even when adjusted to a maximum of 100%. Luckily, there are ways to boost your voice volume beyond 100%. However, most of these methods slightly compress your voice, making it less clear and flattening its tone.
Despite considering this, the microphone of the Blackshark V2 Pro is one of the top wireless choices I've tried. No, it can't match the clear sound quality of a well-made wired headset, and it can't compare to an excellent stand-alone boom mic. However, the main reason to choose this model is its wireless connectivity, which none of those products have.
Convenience is great, but there are some small compromises, like lower mic input quality. Owners of this headset can be thankful that the trade-off is small compared to the benefits of not having tangled cords or dangerous cables that can accidentally pull your computer off your desk when you forget you're wearing the headset and walk away.
Wrap up
The Razer Blackshark V2 Pro is designed for a specific purpose. Razer has optimized this product for competitive gaming. It provides precise directional sound and clear high frequencies, allowing you to track your opponents' movements without seeing them. Due to its incredible effectiveness in its main area, it's difficult to criticize it for struggling a bit with music or more orchestral game soundtracks. The product's laser-focused purpose limits its audience. For those who prioritize using their audio equipment to gain a competitive edge, the Blackshark V2 Pro is one of the top wireless options available, regardless of price.