Honor of Kings is a popular MOBA game for iOS and Android smartphones. The game was released on November 26, 2015, and is still very popular today. The MOBA game was only released in China, not anywhere else. Many gamers want to play Honor of Kings but need help because of geo-restrictions. Good news! This blog will show gamers an easy way to download Honor of Kings from anywhere without hassle.
How to Download Honor of Kings from Anywhere?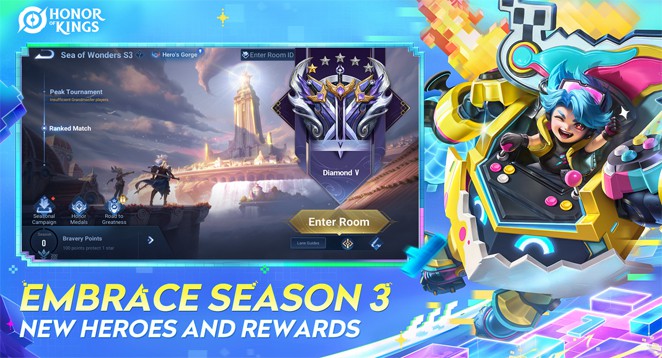 To download Honor of Kings, follow these easy steps:
1. Subscribe to a VPN service.
2. Get VPN.
3. Access a VPN server located in Brazil.
4. Create a Google account and set the location to Brazil.
5. Go to the Google Play Store.
6. Find Honor of Kings downloads.
7. Please install Honor of Kings.
Reminder: Please ensure your VPN connection stays active during installation.
To download Honor of Kings on iOS devices, follow these steps: 1. Create a new Apple account. 2. Connect to a VPN server and set the location to Brazil. 3. Download the Honor of Kings.
Honor of Kings APK
To download Honor of Kings on Android, you can also download an APK file. To download Honor of Kings, users can easily search for "Honor of Kings APK" on Google and download it. Install the APK, players need to download it and then enable their device to install apps from unknown sources. Please be aware that this option carries risks and may compromise your device. Users are advised to follow the steps mentioned above for various reasons.
Please note that this workaround does not apply to iOS devices.
What makes Honor of Kings so popular?
It is the biggest-grossing mobile game in China, has around 200 million players. The game is famous for several reasons, including:
1. Tencent, a Chinese company, created the game specifically for players in China.
2. The world, elements, and themes of Honor of Kings are relatable to Chinese audiences.
3. Honor of Kings is a highly competitive game that is popular in esports.
4. Tencent couldn't get the rights to make a League of Legends mobile game, so they made their own game.
5. The characters in Honor of Kings are based on legendary figures, which makes it culturally relevant to the region. It sets it apart from Western games that are translated for different regions.
Final Words
This blog covers downloading, installing, and playing Honor of Kings from anywhere. Users can access Honor of Kings in countries like the Philippines, Vietnam, and Indonesia using a VPN. Now, internet users have a reliable tool called VPN to easily access their favorite games, movies, and TV shows. Users will also enjoy excellent security and privacy, so they can be confident that their data will never be compromised.
Honor of Kings, also known as King of Glory and Strike of Kings, is a beautiful 3D 5v5 MOBA for mobile devices developed by Level Infinite and TiMi Studio Group. Our mission is to build teams of five players to take down the nine towers and the rival army's crystal. As usual, Honor of Kings APK includes a wide variety of exclusive characters. Thus, our hero in the Honor of Kings Android app can assume different roles, such as mage, warrior, assassin, and more. There are nearly 60 unique warriors with exclusive skills, a neat design, and several skins to change their appearance.