Changing your Xbox Gamertag is easy and can free you from an embarrassing username you've had for years. Why not leave behind your old xXGruntHunter7837Xx identity and start fresh with a new name, or try a tag that suits you better?
Your Xbox Gamertag is your unique online name on Xbox Live. You can see it on your Xbox account, console, in-game, and wherever you play with an Xbox One, Xbox Series X, or Xbox Series S system. You can use your real name or a Gamertag when playing online. However, many people prefer to use a Gamertag for anonymity.
When you change your Xbox Gamertag, you won't lose any achievements, personalized options, friends, games, or apps—no need to change anything to access your account. You can continue gaming after making the change.
Microsoft offers one free Gamertag change before requiring payment. It means you can try out a new Gamertag without spending any money. It allows you to experiment with something different without worrying about your bank balance.
How can you change your Xbox Gamertag? Just follow these steps, and you'll be able to show off your new identity in no time.
How to change your Xbox Gamertag on Xbox Consoles
You can change your Xbox Gamertag in a few ways. You have two options: do it from your console or online.
As mentioned before, your initial Gamertag change is free. If you used a randomly generated Gamertag from Microsoft when signing up for Xbox Live, you can still change it for the first time. Afterward, you'll be required to pay $9.99/£7.99 every time you wish to reinvent yourself.
To change your Xbox Gamertag from your console, press the Xbox button on your controller to open the guide. To change your Gamertag, go to 'Profile & system' and select your Gamertag from the available options. Select 'My Profile' and like 'Customize profile' to customize your profile. Please choose your Gamertag again.
To change your Gamertag, select 'Choose your new Gamertag' and enter the new tag you want. A Gamertag can have up to 12 characters, including spaces, and must not start with a number. When choosing a name for Xbox Live, ensure it's not inappropriate or offensive. Check Xbox Live's guidelines for acceptable content on their official enforcement help pages.
After selecting a tag, click on 'Check availability.' If you get the message, 'That name isn't available. Please choose another Gamertag, as the one you entered is either already in use or may have offensive content. Please enter a new one and try again.
If you don't get a message, you can see how your Gamertag will appear when you log into various Xbox services. You might use a Gamertag with a '#' symbol and numbers. It allows you to have a unique identifier added to the tag of your choice, making it entirely yours.
Select 'Change Gamertag' when you're ready to confirm your new Gamertag. That's all! The change happens right away. You can start enjoying Xbox Live again immediately.
How to change your Xbox Gamertag online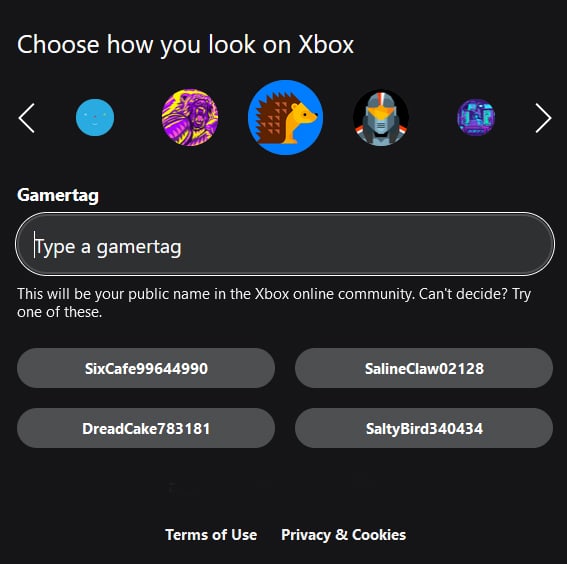 The process to change your Gamertag online is very similar. Go to the Xbox website and sign in using your Microsoft account linked to the Gamertag you want to change.
When you're logged in, type in the new Gamertag you want to use when the text box appears. Choose the option 'Check availability'. To continue, press the 'Next' button when you're ready. On the next page, you can review your Gamertag and see how it will appear on the frequently used Xbox services. If you're satisfied, select 'Claim it.'
And that's it. Have fun with your new Xbox online identity!